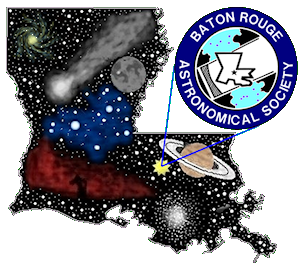 Monthly Observing Information

This page provides charts, and text concerning what is visible in the night sky during the month noted. All information is for Baton Rouge, Louisiana, but they can still provide useful information for most other areas of the U.S.A. Sky charts, Saturn ring plane, and Venus phase images are for Midnight, on the 15th day of the month. Sky charts are 100 degree field of view, and show objects down to 12th magnitude. Times in the Astronomy Lab 2 text information are in 24 hour format and have been adjusted for Daylight Savings Time. Subtract 12 hours from those over 12 to get the equivalent PM. RA and DEC given are for Epoch 2000.
NOTE: If you print this page out using your browser, be sure it is set to print black text or the background, or the white text will not print at all.

Baton Rouge Clear Sky Clock
Click on image for more info and details. This clock is for the Baton Rouge area only.


December
Moon Calendar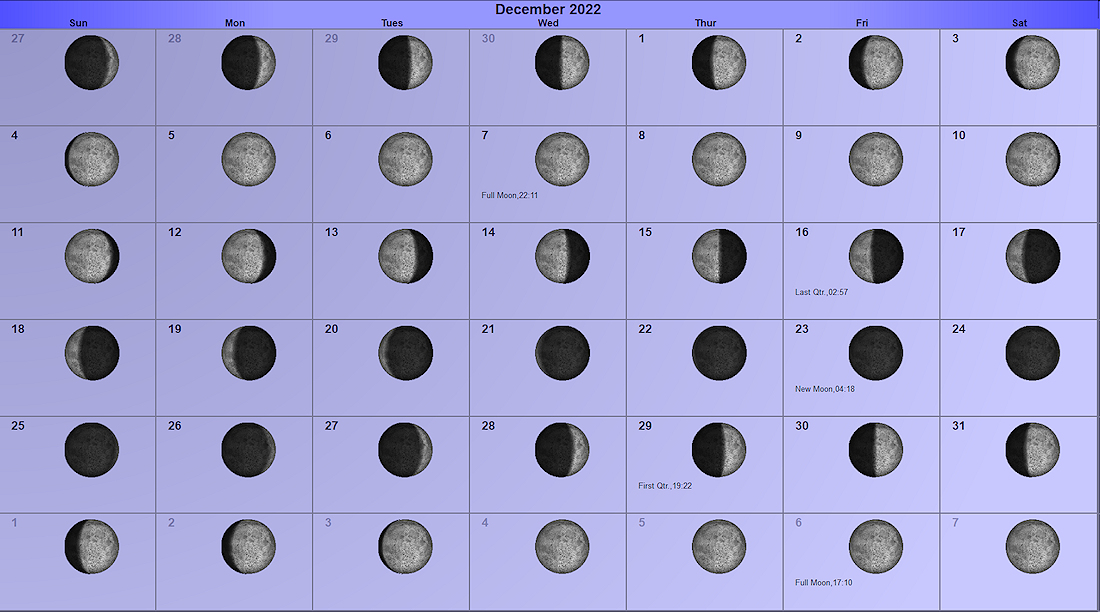 Sky charts
Saturn's Ring Plane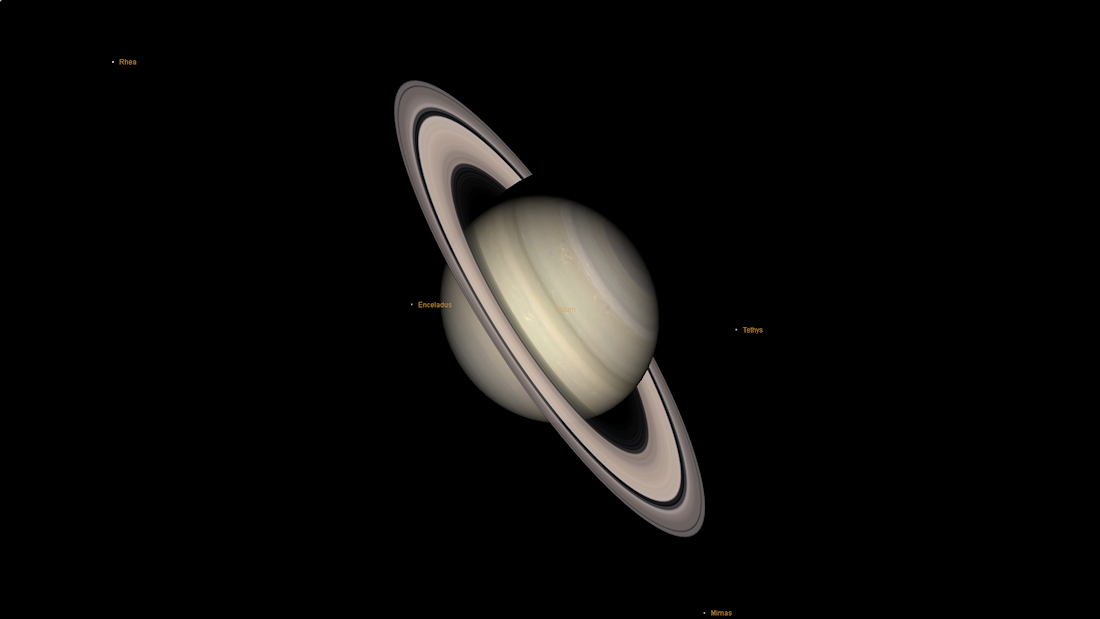 Venus Phase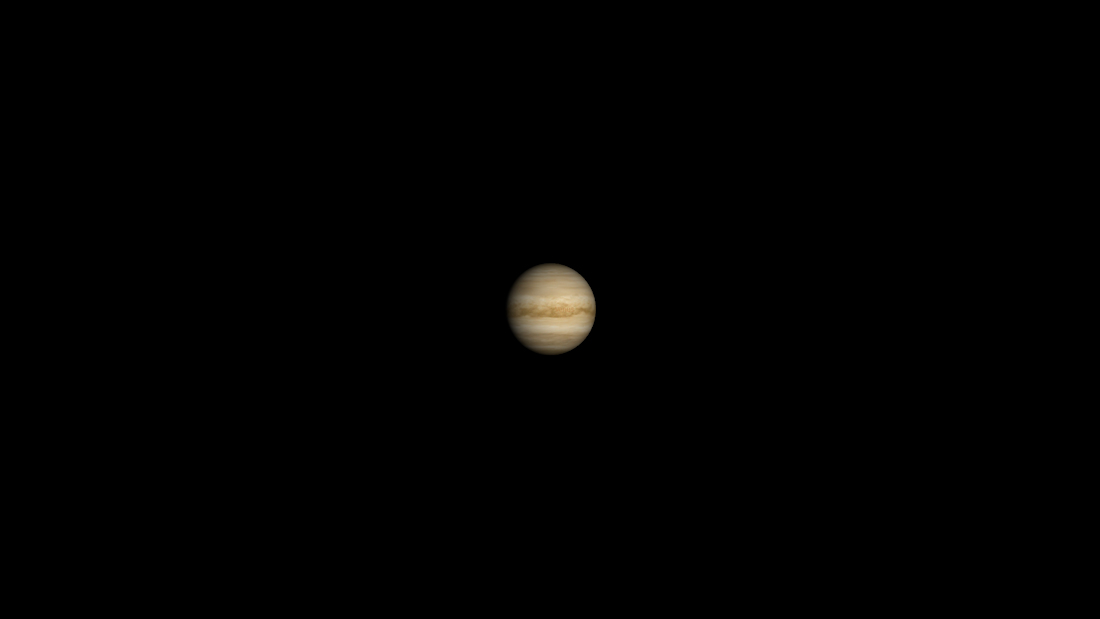 Begin     End
  Date       Moonrise   Moonset   Sunrise   Sunset   Twilight  Twilight
------------ --------- --------- --------- --------- --------- ---------

12/1/2022        13:24     00:23     06:44     17:04     05:19     18:28
12/2/2022        13:53     01:25     06:45     17:04     05:20     18:28
12/3/2022        14:22     02:24     06:45     17:04     05:21     18:28
12/4/2022        14:52     03:24     06:46     17:04     05:21     18:28
12/5/2022        15:25     04:23     06:47     17:04     05:22     18:29
12/6/2022        16:01     05:23     06:48     17:04     05:23     18:29
12/7/2022        16:41     06:22     06:49     17:04     05:23     18:29
12/8/2022        17:26     07:21     06:49     17:04     05:24     18:29
12/9/2022        18:16     08:16     06:50     17:04     05:25     18:29
12/10/2022       19:10     09:07     06:51     17:04     05:25     18:30
12/11/2022       20:06     09:52     06:51     17:05     05:26     18:30
12/12/2022       21:03     10:31     06:52     17:05     05:27     18:30
12/13/2022       21:59     11:06     06:53     17:05     05:27     18:31
12/14/2022       22:55     11:38     06:53     17:05     05:28     18:31
12/15/2022       23:50     12:06     06:54     17:06     05:29     18:31
12/16/2022      ------     12:34     06:55     17:06     05:29     18:32
12/17/2022       00:46     13:02     06:55     17:07     05:30     18:32
12/18/2022       01:45     13:32     06:56     17:07     05:30     18:33
12/19/2022       02:45     14:04     06:56     17:07     05:31     18:33
12/20/2022       03:51     14:42     06:57     17:08     05:31     18:34
12/21/2022       05:01     15:28     06:58     17:08     05:32     18:34
12/22/2022       06:13     16:23     06:58     17:09     05:32     18:35
12/23/2022       07:24     17:28     06:59     17:09     05:33     18:35
12/24/2022       08:28     18:39     06:59     17:10     05:33     18:36
12/25/2022       09:25     19:53     06:59     17:11     05:34     18:36
12/26/2022       10:11     21:05     07:00     17:11     05:34     18:37
12/27/2022       10:50     22:13     07:00     17:12     05:35     18:37
12/28/2022       11:25     23:18     07:01     17:12     05:35     18:38
12/29/2022       11:56    ------     07:01     17:13     05:35     18:39
12/30/2022       12:25     00:19     07:01     17:14     05:36     18:39
12/31/2022       12:55     01:19     07:01     17:15     05:36     18:40

'------' means the event does not occur on this date.


Object       Right ascensio Declination   Azimuth       Altitude      Earth distance  Sun distance    
------------ -------------- ------------- ------------- ------------- --------------- --------------- 
Sun          17h 30m 28.3s  -23° 15' 53"    0° 34' 12"  -82° 48' 52"                0               0 
Mercury      18h 53m 03.4s  -25° 05' 55"  281° 22' 32"  -71° 03' 47"      171,326,212      57,466,795 
Venus        18h 27m 59.3s  -24° 11' 38"  292° 47' 05"  -75° 51' 15"      246,951,955     108,907,257 
Mars         04h 47m 03.4s  +24° 55' 32"  242° 55' 10"  +78° 51' 48"       84,458,704     230,884,994 
Jupiter      00h 00m 35.6s  -01° 25' 04"  264° 58' 54"  +05° 41' 44"      709,839,552     740,716,214 
Saturn       21h 34m 46.7s  -15° 43' 01"  270° 12' 13"  -32° 39' 26"    1,545,490,473   1,472,022,634 
Uranus       02h 52m 48.8s  +16° 09' 02"  257° 27' 41"  +51° 15' 32"    2,825,023,025   2,942,950,862 
Neptune      23h 35m 00.9s  -04° 00' 09"  266° 00' 49"  -01° 07' 02"    4,473,871,689   4,474,897,896 
Pluto        19h 58m 42.4s  -22° 55' 12"  273° 50' 08"  -56° 16' 08"    5,307,499,044   5,186,070,229 
Moon         10h 58m 46.5s  +11° 21' 41"   84° 04' 50"  +12° 33' 43"          400,226               0 

Object       Rise:  Tran  Set: Phase   Constl    Magnitud 
------------ ----- ----- ----- ------- --------- -------- 
Sun          06:54 12:00 17:06   0.00%       Oph  unknown 
Mercury      08:24 13:23 18:23  77.88%       Sgr     -0.6 
Venus        07:56 12:58 18:00  97.56%       Sgr     -3.9 
Mars         16:06 23:11 06:21  99.69%       Tau     -1.7 
Jupiter      12:28 18:27 00:29  99.01%       Psc     -2.5 
Saturn       10:38 16:01 21:25  99.82%       Cap      0.8 
Uranus       14:38 21:19 04:03  99.98%       Ari      5.7 
Neptune      12:09 18:01 23:53  99.97%       Aqr      7.9 
Pluto        09:20 14:24 19:29  99.99%       Sgr     14.4 
Moon         23:49 05:34 12:06  61.00%       Leo  unknown 

Moon Data
---------
Distance (km):                400,225.7
Distance (miles):             248,689.4
True Equatorial:              10h 55m 33.4s +11° 47' 41" 
Angular diameter:               0° 29' 58" 
Total libration (l,b):          5° 13' 06"  ,  5° 54' 46" 
Optical libration:              5° 13' 21"  ,  5° 54' 00" 
Physical libration:             0° 00' 14"  ,  0° 00' 46" 
Position Angle:                21° 44' 18" 
Pos. angle (bright limb):      77° 17' 37" 
Phase angle:                   21° 44' 18" 
Age:                          21.35

Mars Data
---------
Declination of earth:           6° 35' 53" 
Declination of Sun:             2° 23' 43" 
Longitude of the central Meridian:192° 52' 57" 
Pos. Angle:                   326° 20' 40" 

Jupiter Data
-----------------
Declination of earth:           2° 10' 16" 
Declination of Sun:             2° 30' 27" 
Longitude of the central Meridian:116° 12' 30" 
Pos. Angle:                   334° 29' 04" 

Saturn Data
---------
Declination of earth:          14° 17' 33" 
Declination of Sun:            12° 15' 08" 
Longitude of the central Meridian:  0° 00' 00" 
Pos. Angle:                     6° 26' 59" 


Name                          Month/Day    RA         Decl       Hourly Rate
----------------------------- ------------ ---------- ---------- -----------
December Phoenicids                12/05         1.0      -55.0       100
December Phoenicids                12/05         1.0      -45.0       100
Monocerotids                       12/10         6.7       14.0         3
Southern Chi Orionids              12/10         5.7       16.0         8
Northern Chi Orionids              12/11         5.6       26.0         4
Sigma Hydrids                      12/11         8.4        1.6         5
Delta Arietids                     12/11         3.5       22.0         5
Geminids                           12/14         7.5       32.5        90
Ursids                             12/22        14.5       75.8        20

Information for this section is from TheSkyX Student Edition
              Planet View Info Report for 12/ 1/2022 to 12/31/2022

                                    Mercury

Date       Rise  Set     RA         Dec         Elongation   Ill Fr  DIST(AU)

12/ 1/2022  7:49 17:47   17h20m29s  -25°09'00"   12°27'50"   0.940    1.35893
12/ 8/2022  8:09 18:05   18h07m09s  -25°43'56"   15°55'07"   0.884    1.27201
12/15/2022  8:24 18:23   18h51m36s  -25°08'31"   18°49'32"   0.783    1.15024
12/22/2022  8:27 18:36   19h28m17s  -23°28'20"   20°08'04"   0.599    0.99232
12/29/2022  8:07 18:26   19h45m00s  -21°17'55"   17°06'34"   0.303    0.81578

                                     Venus

Date       Rise  Set     RA         Dec         Elongation   Ill Fr  DIST(AU)

12/ 1/2022  7:32 17:41   17h09m53s  -23°19'14"    9°45'41"   0.987    1.67951
12/ 8/2022  7:45 17:49   17h48m09s  -24°03'45"   11°27'23"   0.982    1.66631
12/15/2022  7:56 18:00   18h26m39s  -24°12'08"   13°08'14"   0.976    1.65133
12/22/2022  8:05 18:13   19h05m02s  -23°43'55"   14°48'10"   0.969    1.63457
12/29/2022  8:12 18:26   19h42m58s  -22°40'02"   16°27'16"   0.962    1.61597

                                      Mars

Date       Rise  Set     RA         Dec         Elongation   Ill Fr  DIST(AU)

12/ 1/2022 17:24  7:40    5h10m54s   24°57'40"  169°41'44"   0.997    0.54449
12/ 8/2022 16:45  7:00    4h58m59s   24°59'51"  177°41'28"   1.000    0.54924
12/15/2022 16:06  6:21    4h47m28s   24°55'55"  170°16'52"   0.997    0.56388
12/22/2022 15:29  5:44    4h37m30s   24°47'55"  161°02'24"   0.989    0.58822
12/29/2022 14:55  5:08    4h29m57s   24°38'54"  152°14'34"   0.978    0.62161

                                    Jupiter

Date       Rise  Set     RA         Dec         Elongation   Ill Fr  DIST(AU)

12/ 1/2022 13:22  1:21   23h58m00s   -1°46'10"  110°03'58"   0.991    4.52515
12/ 8/2022 12:55  0:54   23h58m53s   -1°38'16"  103°13'31"   0.991    4.63159
12/15/2022 12:28  0:29    0h00m22s   -1°26'33"   96°31'58"   0.990    4.74101
12/22/2022 12:02  0:04    0h02m25s   -1°11'10"   89°58'53"   0.990    4.85198
12/29/2022 11:37 23:36    0h05m00s   -0°52'22"   83°34'08"   0.990    4.96300

                                     Saturn

Date       Rise  Set     RA         Dec         Elongation   Ill Fr  DIST(AU)

12/ 1/2022 11:30 22:16   21h31m01s  -16°02'17"   71°10'20"   0.998   10.13760
12/ 8/2022 11:04 21:51   21h32m53s  -15°52'54"   64°33'02"   0.998   10.24501
12/15/2022 10:38 21:26   21h35m00s  -15°42'16"   57°58'50"   0.998   10.34669
12/22/2022 10:12 21:01   21h37m21s  -15°30'28"   51°27'25"   0.998   10.44138
12/29/2022  9:47 20:37   21h39m54s  -15°17'35"   44°58'47"   0.999   10.52783

                                     Uranus

Date       Rise  Set     RA         Dec         Elongation   Ill Fr  DIST(AU)

12/ 1/2022 15:34  5:01    2h54m43s   16°17'13"  157°16'01"   1.000   18.76315
12/ 8/2022 15:06  4:32    2h53m43s   16°13'00"  149°55'07"   1.000   18.81674
12/15/2022 14:38  4:03    2h52m49s   16°09'12"  142°34'52"   1.000   18.88347
12/22/2022 14:09  3:35    2h52m02s   16°05'55"  135°15'32"   1.000   18.96232
12/29/2022 13:41  3:07    2h51m23s   16°03'13"  127°57'46"   1.000   19.05201

                                    Neptune

Date       Rise  Set     RA         Dec         Elongation   Ill Fr  DIST(AU)

12/ 1/2022 13:04  0:52   23h34m56s   -4°01'15"  103°53'20"   1.000   29.66125
12/ 8/2022 12:37  0:25   23h34m56s   -4°00'59"   96°47'38"   1.000   29.78061
12/15/2022 12:09 23:54   23h35m02s   -4°00'03"   89°42'51"   1.000   29.90170
12/22/2022 11:42 23:26   23h35m15s   -3°58'27"   82°38'57"   1.000   30.02278
12/29/2022 11:14 22:59   23h35m34s   -3°56'11"   75°36'16"   1.000   30.14199

                                     Pluto

Date       Rise  Set     RA         Dec         Elongation   Ill Fr  DIST(AU)

12/ 1/2022 10:15 20:24   19h57m07s  -22°59'05"   48°03'43"   1.000   35.30850
12/ 8/2022  9:48 19:57   19h57m52s  -22°57'18"   41°08'57"   1.000   35.39759
12/15/2022  9:21 19:30   19h58m41s  -22°55'23"   34°14'30"   1.000   35.47583
12/22/2022  8:54 19:04   19h59m33s  -22°53'20"   27°20'24"   1.000   35.54217
12/29/2022  8:28 18:37   20h00m28s  -22°51'11"   20°27'15"   1.000   35.59563


                         Planet Apsides Report for 2022

Venus
  12/26/2022  Aphelion     Distance from Sun:   0.73 AU


       Planet Conjunction/Opposition Report for 12/ 1/2022 to 12/31/2022

Mars

  Date        Hour   Event

  12/ 8/2022   0     Opposition                         


                               Planet Data Report

Planet       Mean Dist   Period of          Inclination     Equatorial
             From Sun    Revolution                         Diameter
             (AU)                                           (km)

Mercury       0.39        88    days         7°               4880
Venus         0.72       224.7  days         3.4°            12100
Earth         1.00       365.24 days         0°              12756
Mars          1.52       687    days         1.9°             6794
Jupiter       5.20        11.86 years        1.3°           143200
Saturn        9.54        29.46 years        2.5°           120000
Uranus       19.18        84    years        0.8°            52290
Neptune      30.06       165    years        1.8°            50450
Pluto        39.44       248    years       17.2°             2200-2300


                Moon Apsides Report for 12/ 1/2022 to 12/31/2022

Date          Hour    Apsis      Distance (km)    Diameter

12/11/2022    18      Apogee     405884           0.4907°
12/24/2022     3      Perigee    358282           0.5559°


                 Moon Nodes Report for 12/ 1/2022 to 12/31/2022

Date          Time     Node          Illuminated Fraction

12/ 5/2022     6:38    Ascending     0.92
12/19/2022    19:35    Descending    0.17


               Meteor Showers Report for 12/ 1/2022 to 12/31/2022

Date        Meteor Shower       ZHR  RA      DEC   Illum. Frac.  Longitude

12/ 8/2022  Puppids-Velids      15    9h00m  -48°  1.00          257°
12/13/2022  Geminids            75    7h28m   32°  0.74          262°
12/22/2022  Ursids               5   14h28m   78°  0.01          271°
12/25/2022  Puppids-Velids      15    9h20m  -65°  0.08          274°


                  Twilight Report for 12/ 1/2022 to 12/31/2022

Date         Sun            Astronomical   Nautical       Civil
             Rise   Set     Begin  End     Begin  End     Begin  End

12/ 1/2022    6:44  17:04    5:15  18:32    5:44  18:03    6:14  17:34
12/ 8/2022    6:49  17:04    5:20  18:33    5:49  18:04    6:19  17:35
12/15/2022    6:54  17:06    5:24  18:36    5:53  18:06    6:23  17:36
12/22/2022    6:58  17:09    5:28  18:39    5:57  18:10    6:27  17:40
12/29/2022    7:01  17:13    5:31  18:43    6:00  18:14    6:30  17:44

Information for this section is from Astronomy Lab 2.03
---