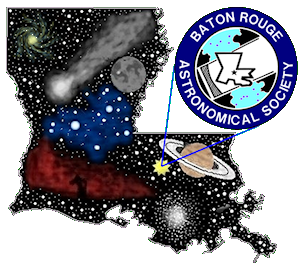 Member Stargazing Information
NOTE: To print these pages from your browser using a color printer, be sure you select "black text" in your "Page setup" (or the equivalents) before printing. Otherwise the white text will not print at all.

The Baton Rouge Astronomical Society will hold monthly Stargazing Sessions for club members only at our dark observing site located near Maringouin, LA.
Members who would like to be placed on our Stargaze Contact List, email our Observing Chairman, John Nagle.

Lighting Rules in Affect After Dark, and User Responsibilities
Please arrive around sunset to allow time for setup. If you must arrive after dark, be considerate of others trying to observe, as follows:
1) Use parking lights only when entering the site after dark to help others keep their eyes dark-adapted and not ruin astro-photographs being taken.
2) Must use red lighting only, no white lights.
3) Please pick up after yourself and leave the site as you found it. Remember, we are guests at this site and are given the privilege to use it.
---